Now when you buy selected small bags of James Wellbeloved dry dog food, including a number of grain-free options, you'll get 10% off!
This promotional offer applies only to the listed variants starting with 777814.xx (.xx = variant identifier).

James Wellbeloved complete dry dog food uses specially selected wholesome ingredients to make it naturally healthy, completely satisfying and very tasty for your dog. With no beef or pork, no wheat or wheat gluten, no dairy products or egg this complete dog food is hypo-allergenic and free from many of the ingredients which are renowned for causing food intolerances. It contains no added artificial colours, flavours or preservatives. James Wellbeloved complete dog food has been developed to be easy on your dog's digestive tract and soothe itchy coats. With your dog's well-being in mind, the recipes contain a single source of meat protein - either turkey, duck, lamb or ocean white fish of the finest quality. The carbohydrate content comes from rice, oats and barley. They are not only a valuable energy source but delicate on your dog's digestion too. James Wellbeloved avoids using many of the ingredients renowned for causing food intolerances. This means James Wellbeloved cat and dog food and treats do not contain beef, pork, wheat or wheat gluten, dairy products, eggs or soya.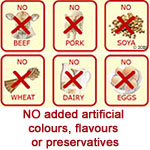 More information about the individual varieties can be found here:
* Special offer items have limited availability and are very popular. We cannot guarantee availability of these items. The images used in this promotion are for illustration purposes only and do not constitute a binding offer. Out of stock promotional items are no longer available for purchase.