A solid plastic transport box for dogs, with metal door, viewing window and 2 carry handles (Size 5 & 6). With screw bolts for stability and conforms to high security standards and IATA regulations.
With the Feria Transport Crate you can be sure that your pet is safe and secure while you travel together, making the journey or flight extra comfortable.

The light grey and olive rounded interior has no sharp edges or corners, and features metal latticed windows, which provide light and ventilation. These details make the crate especially safe, whilst creating the most comfortable travelling environment possible for your pet. The click fastener and optional screw bolts ensures the highest levels of safety.

A stable, comfortable dog crate is a must if you wish to take your dog with you whilst travelling. No matter whether you are travelling by car, train or aeroplane, the Feria Transport Crate is the ideal choice and is available in a range of different sizes. The plastic box is robust and of high quality, with a stable metal door, which can be installed to open to the left or the right. The door can also be removed completely. It closes with a sliding lock that allows you to easily open and close the door without fuss. The upper half of the cage can also be easily removed with a click fastener, with a safety lock system.
Ventilation windows made from metal on the sides and rear of the Feria Transport Crate ensures a good air supply for your dog. On the top of the box you will also find two carry handles (Size 5 & 6), and wheels can be fixed to the base in order to make it extra comfortable to move the crate around. The wheel set is ideal if you do not want to have to pick the crate up with your dog inside.
For additional security, particularly during flights, the upper and lower sections of the Feria Transport Crate can be securely screwed together using screw bolts and wing nuts, which are included with delivery. Openings at four corners as well as the upper and lower halves of the grille door allow even further security, making it possible to secure the crate using cable ties, which can be required by some airlines. The transport crate conforms to IATA regulations, as set out by the International Air Transport Association.

The Feria Transport Crate at a glance:
Transport crate for dogs, ideal for safe journeys by car, train or aeroplane
Meets IATA regulations (recognised by the majority of airlines)
Stable plastic box with metal grille door (completely removable)
Metal ventilation grilles on both sides and rear
Openings for further security fittings
Includes screw bolts
2 carry handles (Size 5 & 6)
Can be mounted on 4 wheels (not included)
Colour: light grey/olive
Material: plastic
Grille style: removable (door only)
Grille material: metal
Ventilation position: air grilles on sides and back wall
Tray fastenings: quick click fastener with additional security lock system
Available in different sizes


Get your pet used to a new transport crate gradually and gently. Start by leaving the door open and allowing your pet to relax inside at home. Then move on to closing the door for short periods, and gradually increase this time. Try some short test trips in the car before attempting a long journey. The crate should never be used as a punishment, and should be a positive, safe hideaway for your pet.

Please note: The breed recommendations below are based on breed standards and serve as guidelines only. Always take into account your individual dog's size when selecting a travel crate.
Size
Exterior dimensions
L x W x H
Interior dimensions
L x W(max./min.) x H(max./min.)
Weight of crate when empty
Suitable for e.g.
4
67 x 51 x 47 cm
60 x 46/43 x 44/39 cm
4.5kg
Beagle, Cocker Spaniel, West Highland Terrier, Poodle
5
80 x 56 x 59 cm
71 x 51/43 x 57/52 cm
6.3kg
Poodle, Basset, Bearded Collie, Border Collie, Chow Chow, Collie
6
90 x 60 x 68 cm
80 x 55/46 x 65/60 cm
8.4kg
Borzoi, Old English Sheepdog, Münsterländer,
Airdale Terrier, Dalmatian, Labrador
7
100 x 67 x 76 cm
90 x 62/52 x 72/67 cm
11.1kg
Airdale Terrier, Boxer, Dobermann,
German Shepherd, Labrador, Retriever,
Bernese Mountain Dog
The right kennel for your pet: According to IATA (International Air Transport Association) regulations, the size of a dog crate must allow for the animal to stand upright inside it without its ears or head touching the ceiling. The animal must also have room to turn around inside the cage, and must be able to lie down in a natural and comfortable position.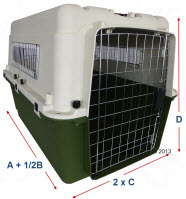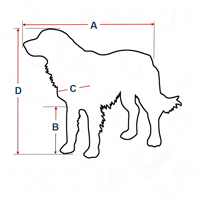 The right length (A + 1/2B): Measure the length of the animal from the nose to the base of the tail, and add half of the length of its front leg

The right width (C x 2): Measure the width from shoulder blade to shoulder blade, and multiply by 2.

The right height (D): Measure the height of the animal from the paws to the tips of the ears.

Please note: This carrier complies with the IATA Live Animal Regulations for animal transport.
However, as individual airlines and countries may differ in their regulations for pet travel, it is important that you confirm with your airline before purchase that the carrier meets their own specifications. Some airlines require bolts or cable ties (not included in delivery), to keep pet travel crates safely secured. You can do this by tying a cable from the door above to the sides and to the bottom. The top and bottom of the Feria Transport Crate can also be tightly fastened shut with bolts (not included in delivery).