Hill's Canine Performance Dog Food, for adult dogs (1-6 years) with high energy requirements, such as working, hunting and sledging dogs, choosy dogs, nervous or stressed dogs


Hill's Science Plan Adult Performance Medium with Chicken was developed for adult dogs aged between one and six years which are very active or are exposed to particularly high physical demands, for example dogs which take part in sporting competitions or shows, working dogs, hunting dogs, dogs in training and particularly nervous dogs. Even choosy dogs are tempted by the delicious taste of this food. Science Plan Performance dry dog food includes Hill's antioxidant formula which supports the immune system. It provides excellent taste and a balanced diet for active dogs.
Hill's Science Plan Adult Performance Chicken has been developed to cater for the special requirements of 1 to 6 year old dogs that are particularly active or under higher than usual physical strain. This includes dogs that take part in sports events or presentations, undergo training, or nervous dogs. Even picky dogs are led by their taste buds.
Hill's Canine Performance Chicken covers high energy requirements and provides healthy levels of nutrients.
The dry food contains the unique Superior Antioxidant Formula developed by Hill's which supports the immune system.
Incredible flavour and a balanced diet for active dogs.
Promotes healthy skin and a shiny coat.
The cost of feeding your pet Science Plan is less than you might think. And, because Science Plan is carefully made with nutritious and digestible ingredients, your pet will benefit from a meal with far more nutritional value than the ordinary bowl of pet food offers.

Kroketten: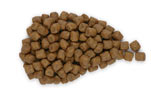 Please note:
Hill's Canine Performance is NOT suitable for pregnant or nursing bitches, inactive and overweight pets or dogs suffering from hyperlipidaemia.
Do not feed to cats!