Hill's Canine Adult Light Chicken Dog Food for adult dogs over 25 kg with low calorie requirements, such as neutered dogs, dogs with low activity levels or overweight dogs


Hill's Science Plan Adult Advanced Fitness Light Large Breed with Chicken is a food for adult large breed dogs above 25 kg with a tendency to be overweight. Hill's Canine Adult Large Breed Light has a reduced energy density and thus avoids weight gain in your dog.
Hill's Canine Adult Large Breed Light Chicken is especially designed for the energy requirements and the nutritional needs of dogs requiring fewer calories.
Contains 37% less fat and 18% less calories than Science Plan Adult Large Breed
Omega-3 and omega-6 fatty acids promote healthy skin and shiny fur
Reduced energy density prevents weight gain
Hill's unique mixture of antioxidants strengthens the immune system
Glucosamines and chondroitin from natural sources support joint health in older dogs
High amounts of natural fibre aid digestion
L-carnitine increases energy conversion and reduces fat storage
A bowl of Hill's Science Plan contains high-quality, easily-digestible ingredients of much higher nutritional value than a bowl of ordinary dog food, making the cost of feeding your dog lower than you might expect.
Kibble: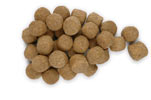 Please note: Hill's Canine Adult Large Breed Light is NOT suitable for pregnant or lactating bitches.